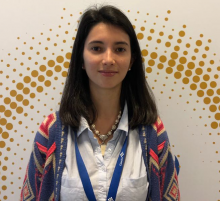 JuMBO PhD thesis supervisor: Dr. Federica Benvenuti, ICGEB
Summary of career/studies
I performed my degree in Biological Sciences in the Faculty of Sciences of the University of the Republic, Montevideo Uruguay. The title of my thesis was "Pattern distribution  and quantitative analysis of the expression of HIG-1 protein (Hypoxia induced gene 1) in the central nervous system of the rat", under the supervision of Dr. Gabriela Bedó, in the  evolutionary genetics section of the Faculty of Sciences.
Then, I started my Master's Degree in Biological Sciences, focusing on Molecular Biology field. The title of my thesis was"Biochemical characterization and study of the immunological properties ofTrypanosoma cruzi cytosolic Tryparedoxin peroxidase". This work wascarried out under the supervision of Dr. Dolores Piñeyro, at the MolecularBiology Unit of Pasteur Institute of Montevideo.
Currently, I am starting my PhD under the supervision of Dr. Federica Benvenuti. 
Why JuMBO PhD?
I chose Jumbo because I want to continue with an academiccareer and I think that Jumbo is a PhD program through which I willacquire a solid formation in molecular biology field.