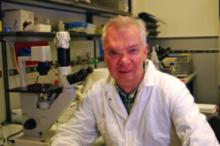 Group Leader
ICGEB
---
Lawrence Banks heads the Tumour Virology Laboratory at ICGEB Trieste. Research interests are focussed on the mechanisms of virus entry and the induction of carcinogenesis by Human Papillomaviruses.
Recent publications:
Human Papillomavirus L2 facilitates viral escape from late endosomes via Sorting Nexin 17. M Bergant Marušič,  MA Ozbun,  SK Campos,  MP Myers, L. Banks. Traffic, 2012, 13:455–467.
Restoration of MAGI-1 Expression in Human Papillomavirus-Positive Tumor Cells Induces Cell Growth Arrest and Apoptosis. C. Kranjec, P. Massimi, L. Banks. J. Virol. 2014, 88:7155.
Human tumour viruses and the deregulation of cell polarity in cancer. L. Banks, D. Pim, M. Thomas. Nature Reviews Cancer, 2012, 12:877-886
The Invasive Capacity of HPV Transformed Cells Requires the hDlg-Dependent Enhancement of SGEF/RhoG Activity. V. Krishna Subbaiah, P. Massimi, S. Shi Boon, M.P. Myers, L. Sharek, R. Garcia-Mata, L. Banks. PLoS Pathogens, 2012, 8:e1002543.