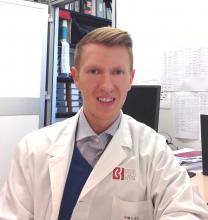 Researcher
Fondazione IRCSS Istituto Neurologico Carlo Besta
---
Dr. Fabio Moda works as Senior researcher at IRCCS Foundation Carlo Besta Neurological Institute (Milan, Italy). He received the Master in Medical Biotechnologies and Molecular Medicine in 2007 and the PhD in Translational and Molecular Medicine at the University of Milano-Bicocca (Milan, Italy) with a project concerning the molecular, biochemical and immunohistochemical analysis and the therapeutic approaches to prion diseases, Alzheimer's disease and Frontotemporal Dementia. In 2011 he moved to Huston for a post-doctoral training at the University of Texas Health Science Center, where he optimized the use of innovative techniques named Protein Misfolding Cyclic Amplification (PMCA) and Real Time Quaking Induced Conversion (RT-QuIC) that are able to detect and amplify minute amount of prions circulating in peripheral tissues of patients with different forms of prion diseases.
His current research activity includes the study of the molecular events which lead to neurodegeneration and the development of innovative and sensitive tests based on PMCA and RT-QuIC analysis for an early and definitive diagnosis of different types of dementia, including Alzheimer's disease, Parkinson's disease (and other synucleinopathies), Frontotemporal Dementia, Progressive Supranuclear Palsy, Corticobasal Degeneration, and prion diseases using peripheral tissues such as blood, urine, cerebrospinal fluids (CSF) and olfactory mucosa.
Selected publications:
Franceschini A, Baiardi S, Hughson AG, McKenzie N, Moda F, Rossi M, Capellari S, Green A, Giaccone G, Caughey B, Parchi P.
Sci Rep. 2017 Sep 6;7(1):10655. doi: 10.1038/s41598-017-10922-w.
Moda F.
Prog Mol Biol Transl Sci. 2017;150:361-374. doi: 10.1016/bs.pmbts.2017.06.016. Epub 2017 Jul 31.
Redaelli V, Bistaffa E, Zanusso G, Salzano G, Sacchetto L, Rossi M, De Luca CM, Di Bari M, Portaleone SM, Agrimi U, Legname G, Roiter I, Forloni G, Tagliavini F, Moda F.
Sci Rep. 2017 Apr 7;7:46269. doi: 10.1038/srep46269.
Concha-Marambio L, Pritzkow S, Moda F, Tagliavini F, Ironside JW, Schulz PE, Soto C.
Sci Transl Med. 2016 Dec 21;8(370):370ra183. doi: 10.1126/scitranslmed.aaf6188.
Moda F, Le TN, Aulić S, Bistaffa E, Campagnani I, Virgilio T, Indaco A, Palamara L, Andréoletti O, Tagliavini F, Legname G.
PLoS Pathog. 2015 Dec 31;11(12):e1005354. doi: 10.1371/journal.ppat.1005354. eCollection 2015 Dec.
Moda F, Gambetti P, Notari S, Concha-Marambio L, Catania M, Park KW, Maderna E, Suardi S, Haïk S, Brandel JP, Ironside J, Knight R, Tagliavini F, Soto C.
N Engl J Med. 2014 Aug 7;371(6):530-9. doi: 10.1056/NEJMoa1404401.